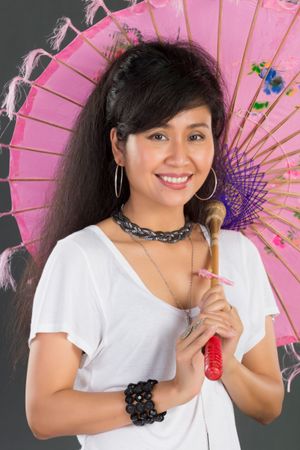 Long a fan favorite in her home country of Myanmar and remaining so today, Madi's distinctive and soulful vocals continue to be instantly recognized and applauded throughout the global diaspora of Myanmar people and now the thousands of others who have been introduced to her magic. 
History provides the very difficult conditions for too  long endured by the people of Burma, now called Myanmar. As a child, Madi experienced this life, yet was always protected and guided by the loving, nurturing and ever watchful eye of her grandmother. 
Madi's musical story began in her early childhood when, like so many of the greats, she was soon a natural up on the stage at her local Church.  Before long, she would be embraced by a nation of lifelong fans. 
Madi's emotional vocals capture the essence of romantic ballads, gospel blues, jazz funk and the rock and roll electric rhythms she learned from her father, blazing Myanmar guitarist Franky MoeMyint. 
At the height of her national fame in Myanmar, she felt a restless urge to see the world. Before long she ventured to other SE Asian countries, Australia, Canada and finally landed in the USA. As she settled into her new surroundings, she dedicated herself to learning about the various cultures she encountered while broadening her understanding of her own inner path.  
"With each of our trips around the Sun, our lives are constantly changing.   Peace and Love often seem so  quaint and distant at times, but I remain ever hopeful that we can all find such space to live our lives."---Madi 
Nature provides her sanctuary to create and breathe. Living a quiet life among the evergreens with her husband, she still enjoys collaborating with friends, creating new music and putting new spins on many of her favorites. 
Please enjoy.